Meet Our Kids Pastors
Pastors Darrell and Margaret Wickert
Pastor Darrell has served for nearly 25 years as a Children's, Next Gen, and Family Pastor all over Texas. He has traveled around the world training leaders and sharing the good news of Jesus to kids. Darrell's wife Margaret and 2 kids (Scout and Cooper) serve alongside Darrell at MercyGate. Be sure to check out their podcast called "Parenting Isn't Easy" below.
Where Your Child Belongs
MercyGate Kids is a place where children from all walks of life are accepted and loved. We teach them how to Discover God, Make Friends, and Find Purpose. We are a ministry for the kids and for the family. At MercyGate Church, your kids are a big deal! While you're in service, rest assured that your kids are receiving top-notch, age-appropriate care with a splash of mind-blowing experiences, rooted in the truth of God's radical grace. Now that's something worth getting excited about!
We strive to have a safe environment for your children. At every MGK event, you will find a check-in station with serve team members to help. Registration includes issuing a unique code with a sticker to pick up children when service is over. For security purposes, doors to the MGK areas remain locked during service. When service concludes, bring your unique ID sticker to pick up your children.
Preschool (6 weeks to 2 years)
During each service, the nursery provides an opportunity for our youngest leaders to hear a Bible story, sing songs about God's love, and play with toys and new friends. It is a great atmosphere for infants and toddlers. The nursery staff are trained caregivers with updated background checks, who enjoy caring for your children.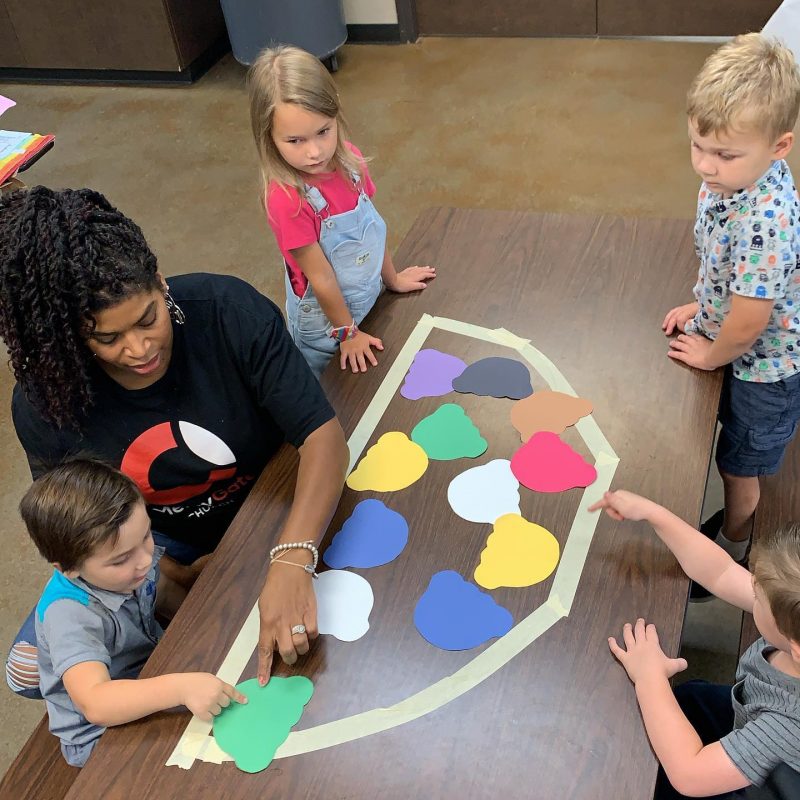 Early Childhood (3 to 5 years)
Preschool age children are ministered to using the most up to date curriculum by great teachers who want to see that group of kids grow into young men and women of God. Activities include crafts followed by multimedia ministry time that kids love…and they get a snack too!
Kids (K to 5th Grade)
MercyGate Kids is a great place for kids to learn about the Bible and worship in a fun, high energy atmosphere. Your child will enjoy games, songs, fun Bible stories, and lessons that they can apply to their lives. No one ever wants to miss MGK weekends!
Wednesdays at 7:00pm is a time of discipleship for elementary kids. The kids can jump in and ask questions as we study different aspects of the Bible, play games, and participate in hands-on activities. The ability to have a good time is one of the best parts of being a kid! check out our online calendar to find some great events just for MercyGate Kids!
What's Happening at MercyGate Kids?